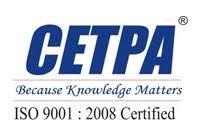 CETPA INFOTECH PVT LTD

(Sector 2) Reviews & Complaints
Address : D-58, SECTOR 2, Red FM Lane
NOIDA
Location : Noida - Sector 2
Phone : 01204535353
Mobile : 9212172602
Enquiry (24/7):80941 56781
Website : http://www.cetpainfotech.com/
Landmark : NEAR SECTOR 16 METRO STSTION
Postal Code : 201301
Deepak Mishra
(5-Excellent Training)

Verified

CETPA Infotech is the best training institute for various courses. Here, I learned Python course with Django and web development by best trainers. CETPA institute has expert instructors with strong technical abilities.Management is little bit slow
Omvir Singh
(5-Excellent Training)

Verified

I have completed my Advance JAVA training from CETPA Infotech and I am quite happy and satisfied with their assistance. CETPA is the best institute to get something like I have learned JAVA Skills from here. CETPA provides me a wonderful chance by putting me on a good profile and helps me to build my profession in my interested field. Thanks, CETPA!!
raj dev tiwari
(2-Above Average Training)

Verified

everything is good like trainers contents and quality. cetpa provides best training and help us for placement. not such as, good training institute
Deepak Dixit
(5-Excellent Training)

Verified

I have completed Machine learning using python training in CETPA Infotech. I was quite impressed with the knowledgeable trainer, their professionalism & the way they teach. It is very real-time and hands-on, which makes a big difference between them & the other places. Facilities are very good and makes the learning more conducive. Thank you CETPA Infotech for making a difference in my learning and knowledge.

Appreciate it!
surbhi singh
(5-Excellent Training)

Verified

I have completed my training from CETPA Infotech in SAP technology and i am very happy and satisfied with their services. Cetpa is the best place to learn something like i have learned SAP from here. My trainer was really very supportive and helped me a lot to improve and grow myself. Whatever today i am just because of his guidance and support. I got the job in a very reputed company after completing my training from cetpa, it has given me this wonderful opportunity by placing me on a good profile and helps me to build my career in my interested field. I want to say thanks to cetpa for everything.
Amit Dixit
(4-Best Training)

Verified

I am looking to enhance my advance skills in programming language like Reactjs, MVC, WCF, WPF, NodeJS etc then few of my friends suggested for CETPA. BY joining CETPA i have gained all knowledge and working on practical skills.Not find any thing yet.
Cheena
(5-Excellent Training)

Verified

The content is designed as more effective and easy to understand and also meets the industries needs. The trainer is good and cooperative.The students less interact
Deep Raj
(5-Excellent Training)

Verified

GOOD CAMPUS, FACULTIES, INFRASTRUCTURE, LIVE PROJECTS EXPOSURE, VISITS OFFERED, AND PLACEMENT ASSISTANCE makes CETPA a one stop solution. A student must learn from this place.
CETPA should have an APP for students, where attendance and assignments can be shared, Rather sharing on Whats App group.
Vaishali
(5-Excellent Training)

Verified

Best Institute for any technical courses, i have done my embedded training there. The faculty is very co-operative and understanding. Trainers are very highly qualified with knowledge of advance technology. They also provide help in college projects and enhance knowledge by giving daily assessment.

Everything is excellent
mukesh verma
(5-Excellent Training)

Verified

I have enrolled for Online Digital Marketing Course where i have learned basic and advanced concepts of SEO, SMO and PPC and other digital marketing skills which will helps me to get good job.Not find any
Avantika Singh
(5-Excellent Training)

Verified

I want to enhance my skills in AI, ML and Data Analytics then few of my friends suggest me of CETPA. One of the best Data Science Online Course where you can easily learn and get into practice of programming as well. Trainer will guide you and helps you in one to one training via video conferencing. Thanks CETPANot Find Yet.
Raj Malik
(5-Excellent Training)

Verified

Trainer and training content is up to the mark. Complete dedication which helps in completing your course on time. Staff behavior is also good. Gave me live projects to work on. Placement opportunities by the company. Office infrastructure is very good.
A must recommended place for training.Parking area is not good..
saurabh singh
(5-Excellent Training)

Verified

I really enjoyed taking the python course with CETPA INFOTECH, Noida.
Faculty members and administrative staff were very helpful during the course.
The courses were really worth taking. The feedback session from the faculty members and from peers was extremely helpful.
The sessions helped me a lot to reach my goals in a constructive manner.
Undoubtedly, CETPA INFOTECH, Noida is one of the best places to upgrade yourself in the IT sector.There was no such demerit that I found in the courses or with the institute. Everything was fine
ARVIND SINGH
(5-Excellent Training)

Verified

this is a best company for engineering student since 2002 start providing training they provide beast quality training with live projects and with live industrial experience with authorization certificateIT is the best company there has no lack point in company trainers,directors and quality, management including infrastructure every thing is best.
Cheena Narula
(4-Best Training)

Verified

The trainer is very good and cooperative. The trainer has approx. 13yrs of experience. It gives opportunity to learn new things and develop our skillsThe training method need to be improved.
Vikas tyagi
(5-Excellent Training)

Verified

best part i like is this, director of cetpa themselves trainer of python and very supportive person and very good trainer of java and ml...and staff alsoas such nothing
kuldeep Dixit
(5-Excellent Training)

Verified

The journey at Cetpa Infotech has helped me a lot in upskilling & shaping my career.They have the best team of instructors & good atmosphere to learn. Their lab facilities are amazing. I am grateful to the job Cetpa team who assisted me with placements & helped me with tips & tricks to appear for interview.
Akshay Kumar
(5-Excellent Training)

Verified

With learning about different SAP Modules like SAP FICO, SAP CO, SAP ABAP and much more will help to know about SAP Skills.Not Found any
Anurag Kashyap
(5-Excellent Training)

Verified

Hi, I have completed my machine learning training in 2019 and got placement in MNC company from there. Thanks to trainer who provided updated knowledge and always ready to resolve queries because of limited students in our batch. The best learning environment and the chance to work on live projects.Nothing
Ria Singh
(5-Excellent Training)

Verified

CETPA INFOTECH is a good institute for growing their career. PHP trainer is really helpful and has great experience in teaching. Thanks to all the CETPA team for making my career bright and helpful efforts to place me at MNC COMPANY. I thankful especially Trainer.Nothing
Debashish
(3-Good Training)

Verified

I liked trainer way of teaching and help us to implement our knowledge in live projects and always responds well help to resolve issue and course if in any reason we missed class .Nothing
Rakesh Singh
(4-Best Training)

Verified

It was the right decision to join CETPA Infotech Training Institute. I joined for PHP with MySQL. The trainers teach the concepts very well and all the concepts are deeply understood. Recently I join a great company in Gurgaon as a developer with a mind-blowing salary package by the placement cell. Thank you so much to my trainers of CETPA Infotech.
Ashu Anand
(5-Excellent Training)

Verified

I like trainer who helps me to complete my project in time and now I can easily work in Mvc,wcd and wpf. Thanks CETPA
Naman Jha
(5-Excellent Training)

Verified

Hi friends, I recently completed the Python Certification from CETPA, training was excellent. After completion of the Python Training, I got a placement in MNC company. It was a nice experience for me to learn Python from CETPA. Good teaching, Labs are well equipped. Well experienced trainers. Thanks for your support.

Anu Mishra
(5-Excellent Training)

Verified

I am Anu Mishra from Noida. By my friend reference i taken admission in Cetpa Training institute in Noida. Really very good institute now i am working in MNC in Noida.Not found such thing