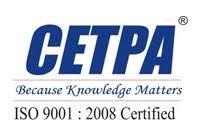 CETPA INFOTECH PVT LTD

(Sector 2) Reviews & Complaints
Address : D-58, SECTOR 2, Red FM Lane
NOIDA
Location : Noida - Sector 2
Phone : 01204535353
Mobile : 9212172602
Enquiry (24/7):80941 56781
Website : http://www.cetpainfotech.com/
Landmark : NEAR SECTOR 16 METRO STSTION
Postal Code : 201301
Manisha Yadav
(5-Excellent Training)

Verified

What is like most is live project practical classes was there which makes me very confident on the time of interview.I did not find anything wrong in cetpa.
Rohit Mankotia
(5-Excellent Training)

Verified

i have joined CETPA for 6 month industrial training in Digital MARKETING and according to my experience so far this is the best institute for training . The trainers are very helpful and the atmosphere is also good.
shivkumar singh
(5-Excellent Training)

Verified

I have successfully completed the 6 months of .Net Training course In CETPA with placement in reputed IT company. CETPA Infotech, Noida is No. 1 training institute for all domains students which provides best placement oriented training on Live project that help more to crack Interview in any domains. Also the placement cell of CETPA is good that always work hard to placed students in reputed companies.
Kritesh Anand
(5-Excellent Training)

Verified

I have Joined 6 Months Industrial Training in Java. One of the best trainer for Java in CETPA Infotech Noida. I have learn all basic to advanced level concepts of java application. Now i have learned all skills in java application and doing a job in good Company. Thanks a lot CETPA for training me.Not find anything
Rahul Tripathi
(5-Excellent Training)

Verified

This is the best training company , when i was attending the class , i had to feel , that atmosphere is good , faculty supportive and the most thing works on the real time project.
Thank You CETPA for giving me great opportunity !All are good !!
Mridula Tiwari
(5-Excellent Training)

Verified

I got to know about the company, Cetpa Infotech Pvt. Ltd through my College. One can get training from anywhere but what matters is quality and I am happy that I completed my training period here. The trainer of my course was a well experienced mentor to me. I not only received theoretical knowledge about the course but also I implemented the concepts taught practically. Moreover the classes are digital and one can see the concepts practically which in turn helps to grasp the concepts easily.
Sachin
(5-Excellent Training)

CETPA Infotech Pvt Ltd is a very good company in the field of software development...